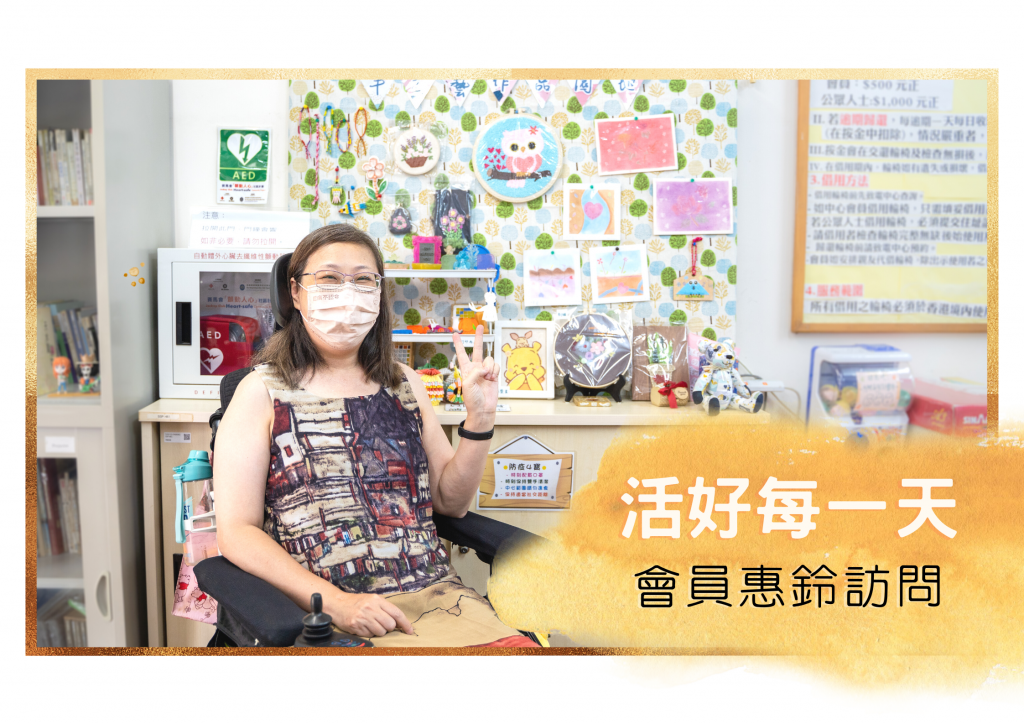 Wai Ling is a member of the Hong Kong PHAB Association's Kowloon West PHAB Centre and suffers from a rare disease called "myasthenia gravis". She has experienced the worsening of her condition and has been in and out of the hospital many times. She has gradually had to use a wheelchair to get around, but she has overcome many difficulties and, over the past three years, has pieced together a fruitful life using her past expertise and new interests developed at the Association, living a better life.
"Before, I liked to travel and walk around, but many things became difficult after I became ill, and I felt like I had lost everything." In 2016, Wai Ling's eyes developed double vision, and during the examination, she was diagnosed with the rare disease "myasthenia gravis." This disease causes the immune system to produce antibodies that mistakenly attack the connections between nerves and muscles, affecting muscle strength. This sudden illness was a thunderbolt for her.
"When the body was exhausted to a certain extent, the disease would break out. At the beginning, I could not grasp my physical condition, and because of the emotional stress, I had many relapses. Every time I relapsed, my whole body suddenly became weak, even affecting my breathing, and I needed to be hospitalized immediately." The disease also gradually affected Wai Ling's work, livelihood, and social life. "Once, when I went out to dinner with a friend, I suddenly relapsed. My friend was frightened and did not dare to make plans with me again. It was the biggest blow I had ever experienced."
From being self-sufficient and financially stable to becoming a patient who could not afford medical expenses and daily expenses, Wai Ling had thought about giving up her life when she was desperate. "At that time, my mental state was extremely poor, and I felt like there was nothing I could do. I also felt like no one understood me. Even though I seemed to be able to walk, my body suddenly ran out of energy, like a machine that had shut down." Fortunately, she met many friends with myasthenia gravis through communication, which helped her to better understand her condition. Later, with the help of different people, she solved the urgent problems of housing and subsidies, which allowed her to relax a little and learn to manage her daily life well and think about her future life.
"Now I don't fight against my body. I reserve one day before and after each activity to rest at home and store energy, trying to reduce the number of relapses as much as possible. Although I can't fully control when the disease will relapse, I can live well every day within my control and try to do better." Feeling that she had also lived a fulfilling life in the past, she now wants to live in the present and live every day well.
With this belief, she actively participated in various activities at the Rehabilitation Centre after joining the Hong Kong Society for Rehabilitation in 2019. She also learned many handicraft skills through the Centre and even became a volunteer tutor. Even when she had to use a wheelchair later, it did not hinder her from passing on her skills and knowledge to other members.
Over the past three years, Wai Ling has learned 3D printing through the Rehabilitation Centre and occasionally designs new wheelchair accessories and decorations. Before she became ill, she enjoyed traveling and planning trips. She has also cooperated with Centre staff and several members to shoot a series of travel videos called "Wheelchair Traveling". They regularly go to different places to shoot, introducing new scenic spots and accessible routes for disabled people. She also teaches handicraft classes at the Centre, such as wire-wrapping, embroidery, and glue-dropping. The Centre staff knew that Wai Ling had learned professional hair-cutting skills due to her previous job, so they invited her to teach hair-cutting at the Centre, allowing more people to cut their own hair at home during the pandemic. While using a wheelchair, she has travelled twice to other places, successfully overcoming various barriers to travel, and is looking forward to having the opportunity to travel again in the future.
Through various means, Wai Ling has lived a colourful life and acknowledges her illness, but does not surrender to it. She encourages others to break through themselves and is very grateful to the Hong Kong PHAB Association for giving her many opportunities and space to develop.
"I think that when you become a person with disabilities, you should give yourself more time to adapt. Besides getting to know the accessible facilities in the community, you should also open yourself up to getting to know other friends with disabilities. You will always find people who understand and accept you. Although everyone's physical condition may be different, everyone needs to help each other, and the most important thing is to treat others and yourself kindly." She feels that people with disabilities will experience a lot of psychological pressure in their daily lives, and not everyone will understand and sympathise with their situation. Therefore, it is essential to have a positive attitude and find ways to overcome difficulties, to live a fulfilling life. Wai Ling's story is an inspiration to many, and her efforts to live a fruitful life despite the challenges of her rare disease serve as a reminder to us all to appreciate every moment and live life to the fullest.