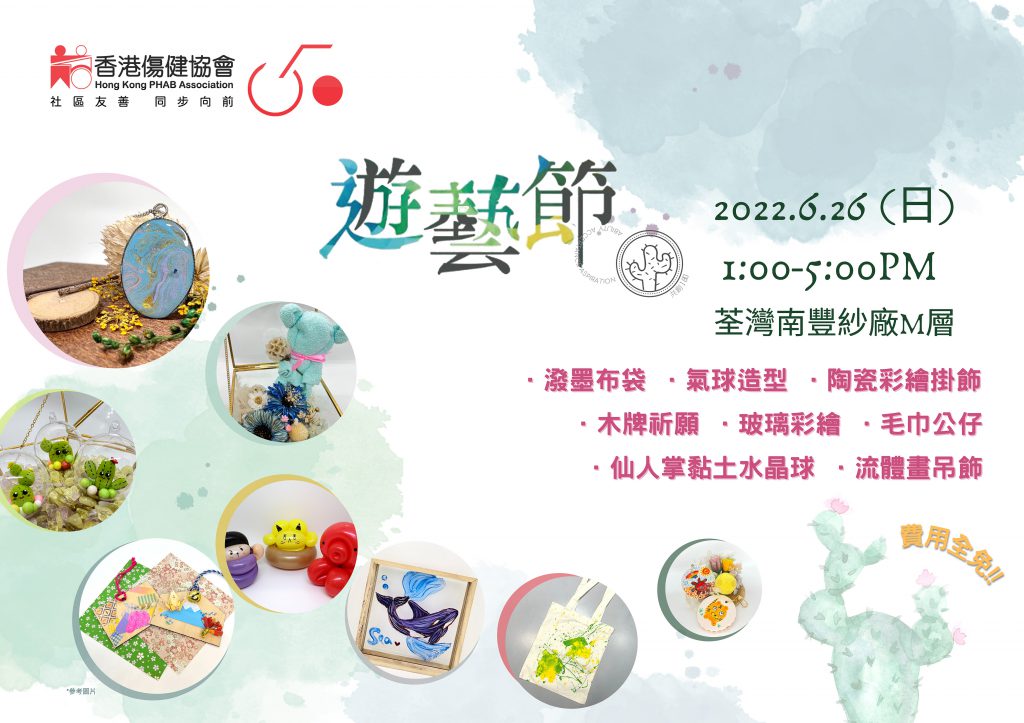 In honour of the 50th Anniversary of Hong Kong PHAB Association, "Handcraft Carnival" would be held on 26th June, 2022, from 1pm to 5pm, at The Annex Room, M/F of The Mills in Tsuen Wan. 8 Craft booths and Photo booths would be set up, with the theme of positive attitudes towards life. People with and without disabilities may understand each other more, and have fun together in this event. The members of HKPHAB, including people with disabilities & elderly, would be voluntary tutors at different booths, sharing the message of Inclusion, friendship, and love to the guests. Please join us in the coming weekend as the event opens to the public with free entry.
"Handcraft Carnival"
Date: 26th June, 2022
Time: 1pm to 5pm
Venue: The Annex Room M01A, M01B@M/F, The Mills, 45 Pak Tin Par St, Tsuen Wan
Content: Tote Bag Art, Balloon Twisting, Glass Painting, etc.
「共創180」is set up by Hong Kong PHAB Association, aiming to show different perspectives to the public through the co-creation of handcrafts by people with and without disabilities. No matter the disabilities, we all have the ability to discover life in a different way.