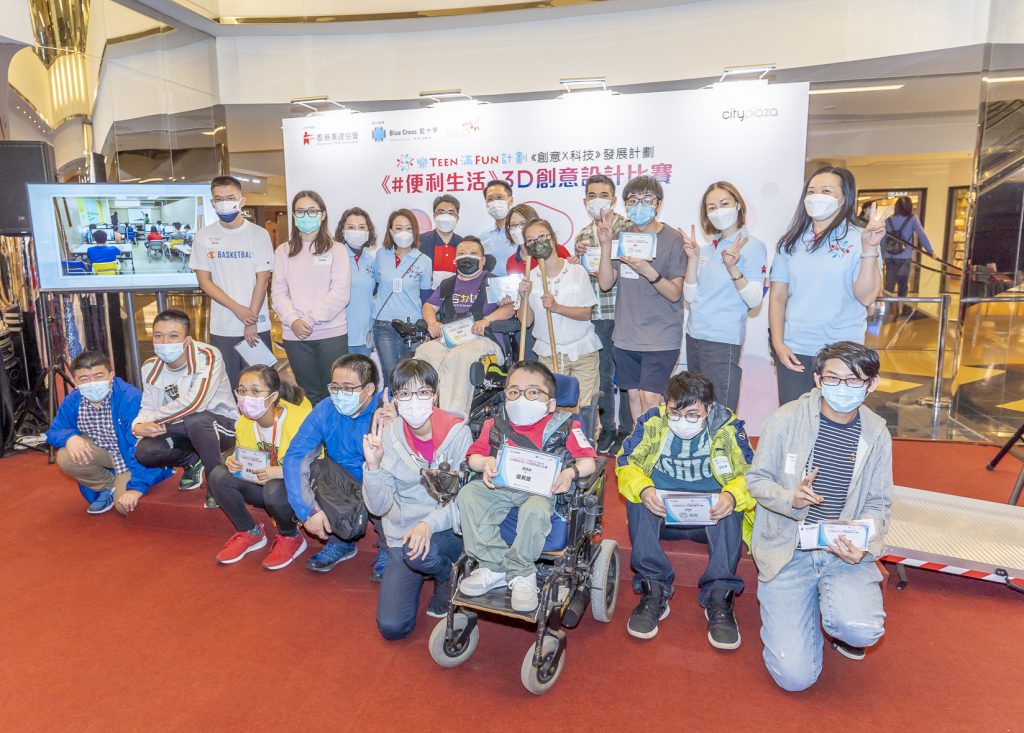 Funded by the Blue Cross (Asia-Pacific) Insurance Limited and the Partnership Fund for the Disadvantaged, Hong Kong PHAB Association launched the "Happy Teens, Full of Fun - Creativity and Technology Development Project" since early 2021. Trainings on 3D printing, product design and market promotion are provided for dozens of teenagers with Special Educational Needs (SEN) and disabilities. The 3D Printing Creative Design Competition themed "#ConvenientLife" is also organized following the training. The trainees of the project can design different kinds of products for joining the competition based on the theme of "#ConvenientLife". Their creative thinking can therefore be stimulated, and interests can be cultivated. At the same time, they are encouraged to open up to different possibilities for their future careers.
The award ceremony and closing exhibition of the "#ConvenientLife"3D Printing Creative Design Competition were held in Cityplaza on 12th and 13th November. Ms. Deborah Wong, the Executive Director of the Hong Kong PHAB Association and Mr. Patrick Wan, the Managing Director of the Blue Cross (Asia-Pacific) Insurance Limited were the award presenters of the event. The creative ideas and the project results of the trainees were shared with the public through the exhibition. The efforts paid by the SEN teenagers and the disabled trainees were affirmed. On the day of the award ceremony, the teenage trainees shared about the inspirations of their designs, and how they overcome the difficulties under the tutor's assistance and completed the 3D model. Some of the trainees also have great interest in 3D printing after joining the project and hope to develop related careers.
With the support of our venue sponsor, Cityplaza, the exhibition successfully attracted the attention and visits of the public with the exhibited 3D products. The Association demonstrated the 3D printing technology at the venue and set up workshops for the public to make their own 3D accessories. A more thorough understanding of 3D printing were brought to the public through the event.